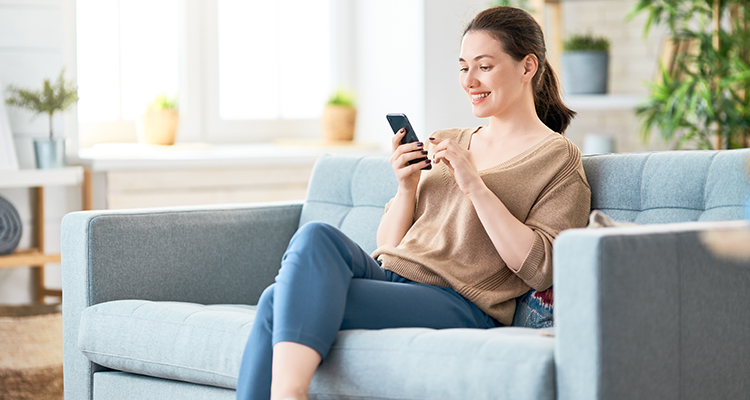 Setting Up Mobile Banking
Mobile banking is a simple, secure and easy way to track your accounts with the convenience of a smartphone. All you need is an online banking account!
If you do not already have our online banking service, simply stop in or contact the credit union at 342-5300. Then you can download our free COMPASS MOBILE APP by searching for "Compass Federal Credit Union" or "Compass FCU" in the Google Play Store (for Androids) and the iPhone App Store.

In addition to mobile banking, our free Compass Mobile App offers Remote Deposit Capture, or RDC, which allows you to take a snapshot of your check and deposit it into a Compass account. 
Remote Check Deposit Q & A
Remote check deposit enables members to deposit checks into their Credit Union accounts using a mobile phone.
Q. What do I need to use Remote Deposit Capture?
A. A smart phone or tablet with rear facing camera - Ability to load an App from App store or Google Play - Compass Credit Union's App - Online banking access with valid email address
Q. What are the qualifications to be eligible for Compass Remote Deposit?
A. Be an active member for 30 days
Q. How do I get started?
A. Once you launch the app, access your account with the credentials you were given and go through the verification process of picking a picture, answering the security questions and changing your password.  Once you have accessed your account information, click on Deposit under the services menu.  If you have not been configured by the credit union to use Remote Deposit, you will see an error alerting you to contact us.
Q. How do I Deposit a check?
A. Once configured, clicking on Deposit will enable you to either make a deposit or review pending or past deposits.  Please write "For Remote Deposit Only", your account number and signature on the back of the check or it will be rejected.  Only checking the Remote Deposit box on the reverse side of your check is not acceptable.  You will then select the suffix where the deposit is going and enter the dollar amount.  Select Check front and follow the prompts to take a picture of the front of the check.  If the image looks good, you will click Use to continue to take a picture of the back.  If the image does not look good, you can choose to Retake the picture.  Once the front and back images have been taken, you will be able to see the images, verify the suffix, and the amount and read the disclaimer.  If everything is correct, select Deposit to submit.  You will be notified by email that your check has been submitted.  If there is a hold on the check, you will be notified when the hold is released.  Once checks are received by Compass, they will be reviewed for acceptance or rejection at 9:00 a.m., 12:00 p.m. and 4:30 p.m. Monday through Friday (excluding Holidays); taking into consideration any holds that apply.  You will see the deposit in your account history that says RDC CK# and posts as Teller FTRD.  You may view an image of the check from your history.
Q. Are there fees associated with the service?
A. Remote Deposit is a free service
Q. Are there restrictions on the amount or number of checks deposited?
A. Checks over the amount of $3,500 will not be accepted remotely.  There is a monthly check limit of $10,000 or 30 checks.  Our check hold policy applies to checks deposited remotely.
Q. What if my check is rejected?
A. Your check can be rejected for several reasons i.e.; exceeding the limit, invalid endorsement, poor image quality etc.  If your check is rejected you will be notified through email as to the reason for the rejection and redeposit options.
Q. Do I have to keep the check?
A. Once you see the check amount deposited into your account it is not neccessary for you to keep the check.
If you have any questions, please feel free to contact us. We would be happy to help you get started!