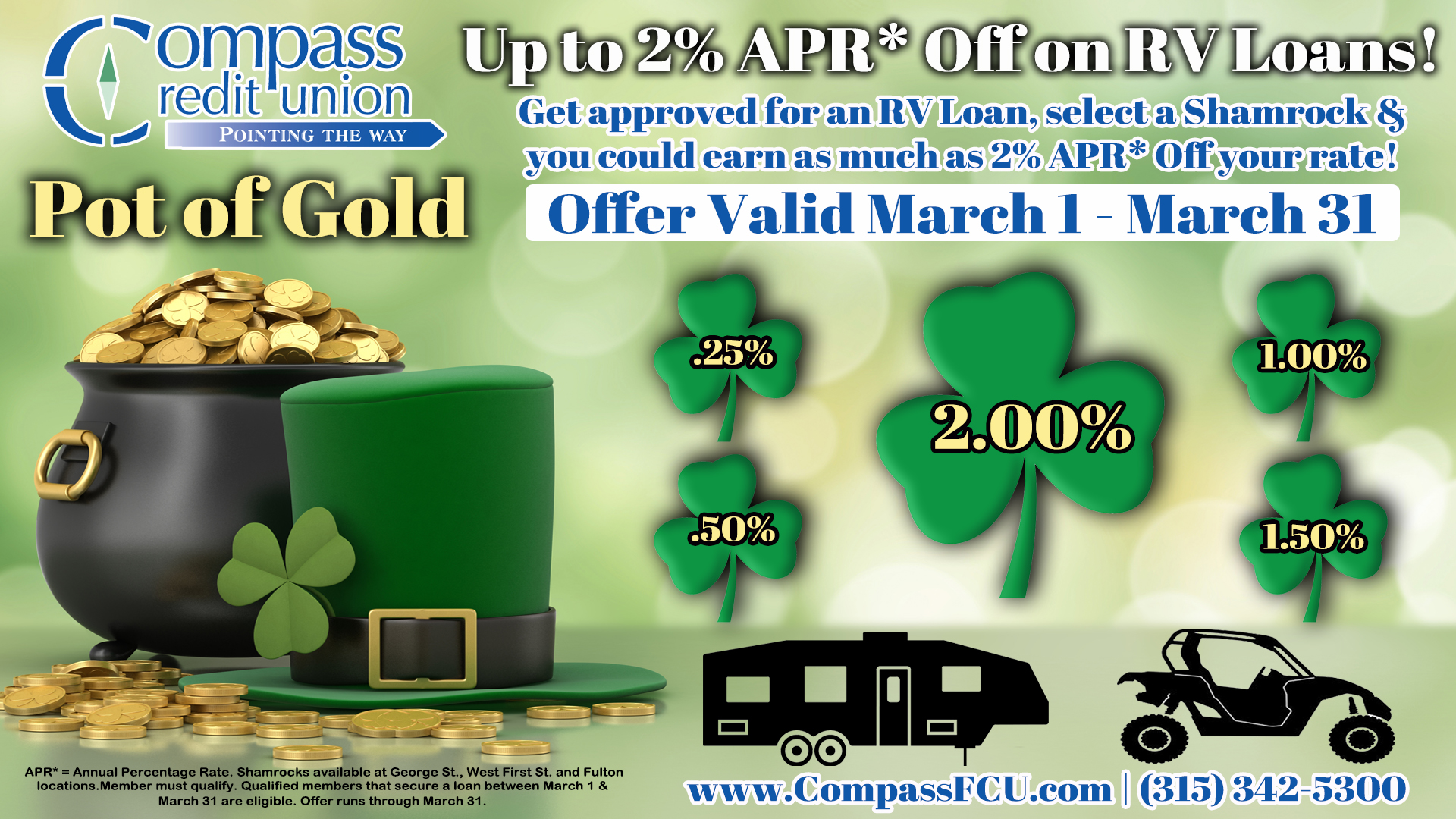 OSWEGO, NY (February 28, 2022) – Compass Federal Credit Union is set to unveil the Compass Pot of Gold at three of its locations, beginning Tuesday, March 1, offering up to a 2.0% APR* discount on recreational vehicle loans.
Qualified members that secure a recreational vehicle loan at Compass between March 1 and March 31 will be eligible to select one lucky shamrock, which will indicate a discount percentage.  Discounts include .25%, .50%, 1.00%, 1.50% and 2.00%.
Shamrocks will be available at Compass FCU's 131 George St. and 300 West First St. locations in Oswego, as well as its 208 North Second St. location in Fulton.
Compass offers several different types of recreational vehicle loans including camper and motorhomes, boats, snowmobiles, motorcycles and collector cars.
To learn more about this special offer, call Compass FCU's main office at (315) 342-5300.
To learn more about Compass Credit Union's services, or to see a listing of locations, visit online at www.compassfcu.com. 
Compass Credit Union can be found on social media via Facebook at www.facebook.com/CompassFCU and on Twitter @CompassFCU.
*APR = Annual Percentage Rate
About Compass Federal Credit Union: Established in 1966, Compass Federal Credit Union has expanded from its original 74 members, to servicing nearly 7,000 members in the Oswego County community.  Compass Federal Credit Union aims to serve its members with responsive and exceptional personal service, security of member's funds, competitive programs and continued growth.