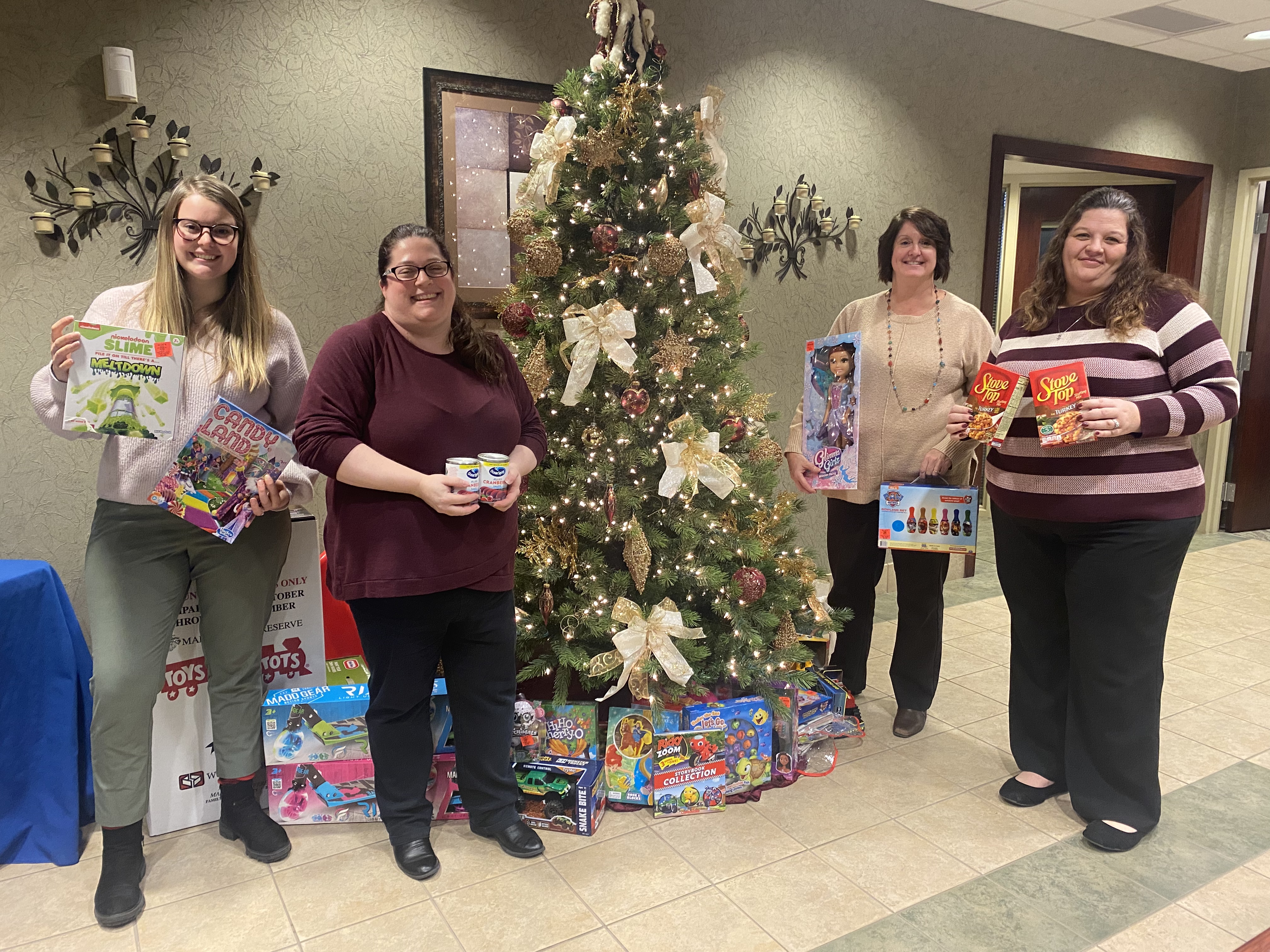 PHOTO: Compass representatives Jackie Slough, Tina Phillips, Sue Fowler and Jennifer Shaffer are part of the Compass team accepting donations this holiday season.
OSWEGO, NY (November 30, 2022) – Compass Federal Credit Union is planning a festive holiday season, which will kick off with a holiday toy & food drive thanks to partnerships with Oswego County Toys for Tots and Human Concerns, Inc.
Teaming up for the 75th Anniversary of Toys for Tots, Compass is working with the Oswego County chapter to place donation bins at three Compass locations.
Bins are already available at Compass FCU's main office, located at 131 George St. in Oswego, as well as at the credit union's offices at 300 West First St. in Oswego and at 208 North Second St. in Fulton.
Help bring the joy of Christmas to less fortunate children this holiday season by bringing new and unwrapped toys to any of the Compass locations listed above.  A final collection of the toy bins will take place on December 16.
During this time, Compass is also conducting a holiday food drive with all donations benefitting Human Concerns, Inc. of Oswego.  Collections will also take place at Compass FCU's George St., West First St. and Fulton locations.
Compass locations will be accepting canned and non-perishable food items such as canned meats, peanut butter, canned or dry soups and macaroni and cheese.  The drive will also accept toiletry products including toilet paper, soaps, tooth paste, tooth brushes and deodorant.
In the coming days, Compass will have more exciting holiday announcements surrounding our local communities.
To learn more about Compass Credit Union's services, or to see a listing of locations, visit online at www.compassfcu.com. 
Compass Credit Union can be found on social media via Facebook at www.facebook.com/CompassFCU and on Twitter @CompassFCU.
About Compass Federal Credit Union: Established in 1966, Compass Federal Credit Union has expanded from its original 74 members, to servicing more than 7,000 members in the Oswego County community.  Compass Federal Credit Union aims to serve its members with responsive and exceptional personal service, security of member's funds, competitive programs and continued growth.